GOP May Not Call Witnesses in Senate Impeachment Trial
According to top Republican leaders in the Senate, the GOP may decide not to call any witnesses in the impeachment trial.
Lindsey Graham argued that once Democrats had called all of their witnesses, the Senate would be ready to take a vote. Graham says there would be no need to call witnesses because there's no point in dragging out the process.
Senator Barrasso agreed, saying that it was pointless for the GOP to call their witnesses since the majority of senators have already made up their minds.
Such a move may signal that GOP leadership in the Senate is confident that they have the votes to acquit Trump.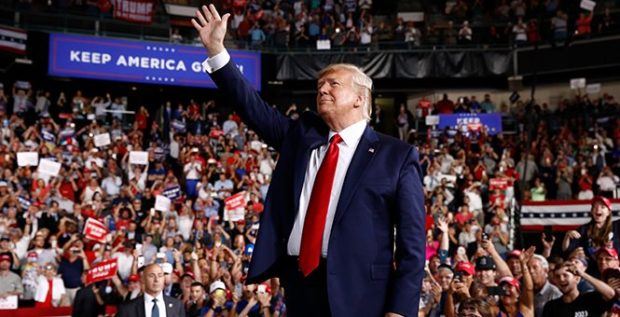 Trump Holds Rally In Pennsylvania
Trump held a campaign rally in Pennsylvania yesterday evening to discuss the fight against impeachment.
It was a packed house for Trump's rally in Hershey, Pennsylvania, where Trump addressed the impeachment saga with his voters.
The president remarked how the Democrats paired their announcement of articles of impeachment with the trade deal reached with Mexico and Canada because their impeachment claims are so flimsy.
Trump also reminded congressional Democrats that they're risking their House majority if they go through with impeachment.
You can check out a full play-by-play rundown of Trump's comments during the rally below:
Financial  Watch
$7 Gold Investment Could Hand Investors a Small Fortune as Gold Soars.
Not gold coins, bullion, or risky mining stocks… Unique gold strategy, with a proven history of soaring 4,500% is Hard-Money expert's "Favorite gold play for 2019."
Michigan Democrat Doesn't Care What American's Think
Reacting to poll numbers that show support for impeachment has dropped in swing states, Rep. Debbie Dingell, D-Michigan, said that she "wasn't elected to do what was popularly right."
In other words, Democrats aren't interested in what their constituents want back home.
Rather than cautiously consider what moderate and independent voters want, liberals want to charge ahead with impeaching President Trump.
Dingell went on to say that Trump threatened national security by temporarily withholding aid from Ukraine.
What do you think? Did Trump's actions regarding Ukraine hurt America?
Man Mistaken For Santa Takes Calls From Kids Every Year
A Georgia man takes random, wrong number calls from kids every year. Why?
Well, it turns out that Scott Chalkley's phone number is very similar to a hotline for Santa.
Rather than complaining, Chalkley fields the calls every year. And this year, he's decided to partner with a charity to turn the simple mistake into an opportunity to help others.
Check out the full story in the below video: