Daily DC Insider
Even left-leaning Snopes calls out the mainstream media over Biden's speech
We already know that the mainstream media will go to great lengths to protect Joe Biden. Now, they're willing to lie so badly that other left-leaning organizations are having to call them out.
After Biden's speech to a joint session of Congress, many pundits and political analysts were ready to analyze the viewership data to get an idea of how well Biden did. And right out of the gate, the liberal media machine started spinning the info.
According to CBS News, Biden's speech garnered a fantastic 85% approval rating. It was such a high number that even liberal pundits started scratching their heads in disbelief.
The CBS poll results were so bad that fact-checking website Snopes had to step in and check out the data. It turns out that the sample used by CBS was full of registered Democrats. Out of 1000 polled, only 169 were Republican.
In point-blank fashion, Snopes said, "the viewing audience for Biden's first speech before a joint session of Congress was not representative of Americans as a whole" before giving the poll results a big, fat "false" rating. Ouch.
But what's really disturbing is that despite slamming the CBS poll, Snopes still made excuses for their liberal friends.
---
More Political Headlines
Twitter is trying to influence the Arizona election audit. Here's how
Biden seems to be really confused about the latest CDC guidelines
Even California is ready to get back to normal
As China's threat to global stability grows, Biden twiddles his thumbs
---
This could be your chance to profit bigger than you ever thought possible
Recommended Link:
20 Companies Are Gearing Up for a $1.4 Trillion 5G Aftershock…

And what happens next will be huge. See, making money from 5G isn't about buying Verizon, AT&T, or T-Mobile. That's why Michael Robinson is urging everyone to focus on the $1.4 trillion aftershock effect – and the 20 small companies now on the receiving end of a historic 5G profit spree. More…
Everyday America
These students helped make a classmate's dream come true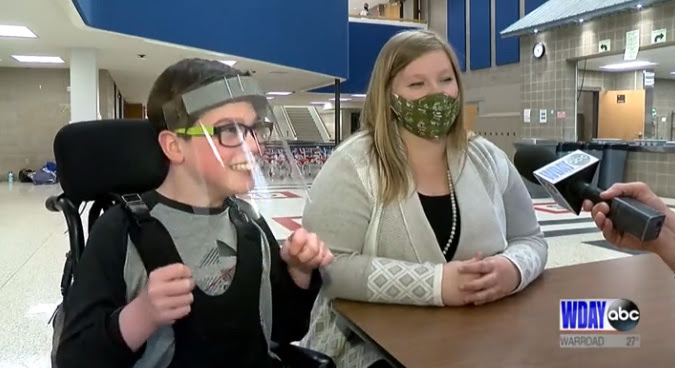 There are certain stories about acts of kindness that restore your faith in humanity. This is one of those stories.
The sixth graders at Detroit Lakes Middle School have always considered Kale Hannahs a part of the team long before a video of their special tag football game went viral.
"We play a game called roller dodge ball and hit his wheels," said student Audrey Hochgraber said.
There's also the creative twist to tag they play so Kale can take part. He's spent the last six years in a wheelchair with cerebral palsy but never complains.
"He's always happy. Always happy. He's always the happiest in the class," his classmates say.
"Kale wanted to play football when he was coming down we were all like let's make Kale's day by getting him a touchdown," Kayden Chadbourne recalled.
While the defense put up a good fight, Kale's blockers had his back. His signature smile perhaps his secret weapon.
"That was the first time we recruited Kale. Now, he's the MVP," Chadbourne added.
Be sure to check out the video of Kale's touchdown for an extra dose of happiness today!
If you have uplifting and heart-warming stories from your local area that exemplify everyday America, be sure to let us know. We just might include it in our next edition!
Recommended Link:
The Best Seven Minutes To Start Your Day
I get a lot of emails from readers looking for recommendations about what's going on outside of the political arena. I'll be honest – if I'm looking for a daily round-up that's both deep and wide, there's only one place I turn. And that's The Seven At 7. In fact, it's the newsletter I turn to as soon as I've gotten your first edition ready to go each day. Best of all – I get all of the news I need (and some I didn't even know I needed) in a short, seven-minute read. Add it to your daily routine. You can thank me later…
Click here and you're in. Trust me – it's already earned the "John Denton Stamp of Approval."
---
This has been John W Denton for The Local Conservative
Be sure to check out the next edition of the newsletter for more
News For Every Conservative!
ADVERTISE with us.