Daily DC Insider
Biden's new press secretary is already floundering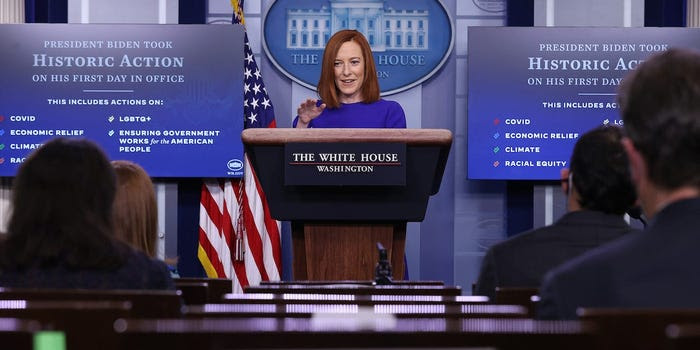 When Kayleigh McEnany was press secretary in the Trump White House, she had to deal with a hostile press that did everything it could to frustrate her. But she never flinched and always had answers to even the most difficult questions.
However, Jen Psaki, Joe Biden's current press secretary, struggles to answer even the most straightforward questions from a pro-Biden press. During the latest White House press secretary, Psaki could only come up with a bunch of "umms" and "I'll have to circle back to you on that." And she was getting softball questions gently handed to her!
Journalists are already complaining that the White House hasn't "circled back" to any of their questions. At this point, we'll never learn anything about Biden's plans or policy stances. It's a sad day when liberals can't even get a concrete answer from someone on their team.
More Political Headlines
This is why unions are turning against Biden
Watch Joe get grumpy when asked this question
Is the attempt to end the filibuster dead?
Eric Holder demands that Democrats do this
Want to see how an expert makes money in the markets?
Recommended Link:

(clicking will opt you in to Profit Pregame's free daily e-letter – privacy policy)

This could kill buy and hold forever.

One guy made $38,000 in three weeks….another over $26,000 and another guy has been averaging $1325 a day in profits since he started.

And Bill Z posted he's hit on 37 of 44 trades since he started using this 1 strategy. (clicking will opt you into Profit Pregame's free daily e-letter – privacy policy)

That's an 84% win rate.

To see how they do it click here.
(clicking will opt you in to Profit Pregame's free daily e-letter – privacy policy)
Everyday America
How this UFC champ is giving back to those in need
Dustin Poirier has just reached the number one spot in the UFC lightweight rankings after knocking out famed fighter Conor McGregor. But Poirier is more excited about helping others in need in his hometown of Lafayette, Louisiana.
The 32-year-old fighter wanted to give back to his community, so he decided to auction off articles of his clothing that came straight from his closet.
Poirier sold off shorts and jackets he wore during some of his most popular fights. He then donated the proceeds to help children in need.
Take a moment and read the full details behind this heartwarming story!
If you have uplifting and heart-warming stories from your local area that exemplify everyday America, be sure to let us know. We just might include it in our next edition!
This has been John W Denton for The Local Conservative
Be sure to check out the next edition of the newsletter for more
News For Every Conservative!
ADVERTISE with us.