Daily DC Insider
Chuck Schumer and Mitch McConnell finally agree on the impeachment trial rules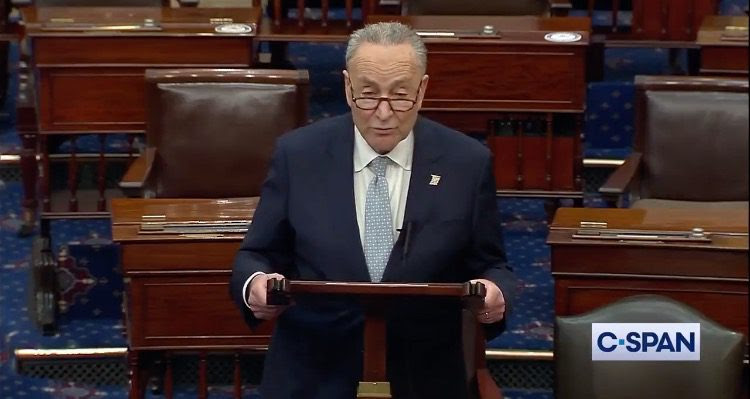 The leaders of the US Senate have agreed to official rules for Donald Trump's second impeachment trial.
Both Chuck Schumer and Mitch McConnell outlined the rules, arguing that the agreement was a bipartisan effort to run the trial as fairly as possible.
The structure of the trial centers around four hours evenly divided between the Impeachment Managers and Trump's lawyers. During that time, both sides will present their arguments.
It's up to each side to determine if they will call witnesses, though it sounds like neither the Democrats nor Trump's lawyers plan to do so. It could be because Schumer and Pelosi are afraid that Trump's side might go too deep down the rabbit hole with their questioning.

The more we learn about this trial, the more it seems like a complete waste of time. The American people aren't interested in this. We're too busy dealing with a pandemic to care.
More Political Headlines
Experts agree that Joe Biden is intentionally trying to drive up the cost of electricity
Another Republican senator just announced his retirement. What does this mean for 2022?
This Democrat is trying to fully justify her hypocrisy on violence
Ocasio-Cortez doubles down on her hateful comments aimed at Ted Cruz
Do you know which stock is poised to skyrocket this year?
Recommended Link:
 
Paul Mampilly is a Wall Street legend.(Barron's crowned his hedge fund as the "world's best" and Kiplinger ranked it in the top 1%.)

But a few years ago, he left Wall Street.

"I just grew tired of helping the rich get richer," Paul explains. "So I started sharing my No. 1 investment picks with Main Street Americans."

And his No. 1 stock picks have been phenomenal.

In 2016, Paul's No. 1 pick — Tableau Software — shot up 199%.

In 2017, Paul's No. 1 pick — Foundation Medicine — shot up 524%.

In 2018, Paul's No. 1 pick — Roku — shot up 393%.

In 2019, Paul's No. 1 pick — MTech Acquisitions — shot up 332%.

But Paul believes his No. 1 stock pick for 2021 could go even higher.(By clicking this link you will be automatically opted in to Bold Profits Daily)
Everyday America
Why a local community in Florida is calling this crossing guard a hero
It's not every day that a crossing guard earns the title of hero, but that's exactly what's going on in one Florida community.
Crossing guard supervisor Kathleen Quinn is being praised for her heroic efforts after saving a 7-year-old from a reckless driver.
While Quinn was patrolling an intersection in Valrico, an impatient driver ignored her and swerved into the crosswalk. A young girl was walking her bike through the intersection just as the car came speeding by. Quinn acted out of instinct and grabbed the girl from the path of the car.
If Quinn hadn't taken action, the aftermath would have certainly been worse! You can watch the video of the incident here.
If you have uplifting and heart-warming stories from your local area that exemplify everyday America, be sure to let us know. We just might include it in our next edition!
This has been John W Denton for The Local Conservative
Be sure to check out the next edition of the newsletter for more
News For Every Conservative!
ADVERTISE with us.