Daily DC Insider
Pelosi praises Liz Cheney and completely gets her name wrong
If you're going to compliment someone in a public setting, you might want to get their name right.
It's no surprise that Democrats love Liz Cheney. She hates Trump, so that means she's an ally to the left. That's why Nancy Pelosi openly praised Cheney for her anti-Trump rhetoric.
"I do commend Lynne Cheney for her courage, for her patriotism," said Pelosi to reporters. The problem is that Lynne is Liz's mother.
Pelosi paused, knowing that she flubbed her speech in some way, but she still wasn't sure how.
The comment from Pelosi proves two things. First, it's time for the GOP to dump Cheney. She's made fools of Republican leaders for far too long. If they don't take action, they'll anger their base.
Second, the leaders within Congress are too damn old. These people have been in power for multiple generations, and what do they have to show for it? Wealth and undisputed power. But they can't even remember someone's name.
Republicans have quickly learned that MAGA supporters are still loyal to Trump. And even moderate Republicans realize that bad-mouthing the former president won't win them any elections in 2022 and 2024. So, hopefully, GOP leadership makes the right decision.
---
More Political Headlines
The fight over Cheney's place within the GOP continues
Is Derek Chauvin getting a new trial?
Biden is still trying to take credit for the vaccines
Jen Psaki starts press briefing with major whopper about the border crisis
---
The profit potential of this is insane
Recommended Link:
INTRODUCING… the Win-Both-Ways Trade
When I left the Chicago Board Options Exchange years ago…
I brought the top strategies with me and went to work for everyday investors.
My first 3,765 trade recommendations averaged a 12.7% gain every three days…
12.7% – every three days – that's what Goldman Sachs hopes to achieve every THREE YEARS.
But now, for the first time, I'm revealing my No. 1 secret for averaging nearly 3X more money…
3X FASTER…
Than my lifetime mark.
I'm talking about averaging single-day gains of 34.58%… with individual wins of up to 136%… 178%… and 188%… all in 24 hours…
See why I'm calling this technique "the Win-Both-Ways Trade."
And why Charles Schwab is calling it "a breakout strategy."
Everyday America
Passengers help deliver baby on flight to Hawaii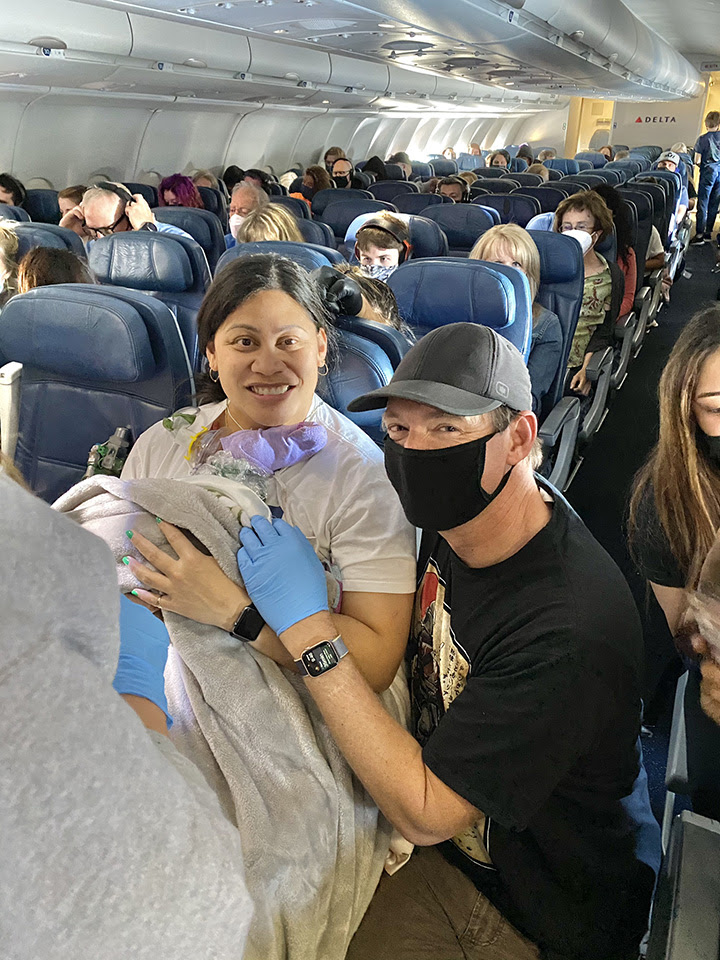 A Utah woman gave birth to a baby boy midway through a flight to Hawaii last week and was treated by a doctor and three neonatal nurses who happened to be on board.
Lavinia "Lavi" Mounga traveled from Salt Lake City to Honolulu on a Delta flight when she went into labor and delivered her son, Raymond Mounga, at 29 weeks on Wednesday.
"We were about halfway through the flight, and we heard someone call out for medical help," said Bamfield, a neonatal nurse. "I went to see what was going on and see her there holding a baby in her hands, and it's little."
Without medical equipment for a premature baby on the airplane, the doctor and nurses used a couple of shoelaces to tie and cut through the umbilical cord, made baby warmers out of microwaved bottles, and used an Apple Watch to measure the baby's heart rate. Now that's impressive!
If you have uplifting and heart-warming stories from your local area that exemplify everyday America, be sure to let us know. We just might include it in our next edition!
Recommended Link:
The Best Seven Minutes To Start Your Day
I get a lot of emails from readers looking for recommendations about what's going on outside of the political arena. I'll be honest – if I'm looking for a daily round-up that's both deep and wide, there's only one place I turn. And that's The Seven At 7. In fact, it's the newsletter I turn to as soon as I've gotten your first edition ready to go each day. Best of all – I get all of the news I need (and some I didn't even know I needed) in a short, seven-minute read. Add it to your daily routine. You can thank me later…
Click here and you're in. Trust me – it's already earned the "John Denton Stamp of Approval."
---
This has been John W Denton for The Local Conservative
Be sure to check out the next edition of the newsletter for more
News For Every Conservative!
ADVERTISE with us.